| | |
| --- | --- |
| Free Marketing Automation Software Source Code | |
| | |
| --- | --- |
| "Separate Marketing Suspects From Marketing Prospects" | Download Our SEO Client Prospecting Robot Marketing Automation Software Source Code Below: |
Can You Be Bribed?
Our 2008 marketing automation software source code is being offered to you as an ethical bribe to encourage you to request membership into our SEO Software Promoter's Community — especially if you are not a computer programmer.

In 2009 we took on an outsourced software coordinator to help develop our 2008 release further.

Unknown to us the coordinator put up a competing website under our product name. He then began marketing the software as his own. He used our existing gui and menus and everything straight from our 2008 version as his own.

Needless to say we ended that relationship.
From The Ground Up
We are now "retooling" to release a new more powerful version of our software with features we dared not share even with our coordinator. The new features will make the old software look as archaic as DOS would look to a Windows7 user. Two different worlds. Night and day difference.

The costs to us thus far over the past three years of developing our marketing automation software would be a staggering $200,000 if all hours were billed to us. By handling much of the expense in house we are able to keep costs as low as possible.
Still though, an extra step of starting from ground zero (again) will obviously cost us significantly more money to complete than we started out at. But by staying in-house as much as possible we gain better control of our source code. And we can better protect the commercial release from theft.

Our Loss Your Gain
Despite these extra costs we want you to be the beneficiary of our loss instead of the thieves who've stolen from us.

By joining our exclusive SEO Software Promoter's Community you help us rebuild — while you profit from legally reselling our software as your own.

Here Are The Advantages Of Joining Our Community: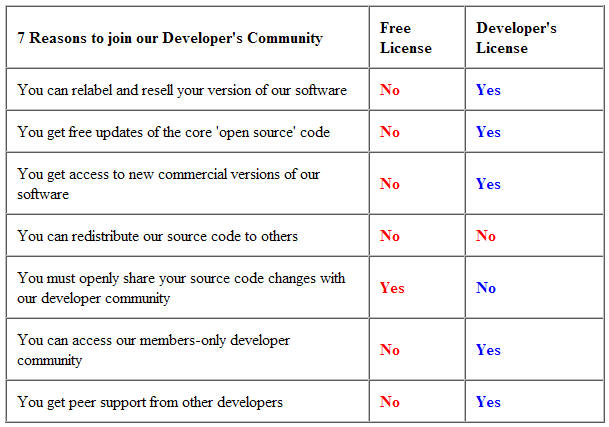 Request Membership Into our SEO Software Promoter's Community
What Does SEO Client Prospecting Robot Do?
Our software automates and simplifies selling online web marketing skills to offline companies.

How?

SEO Client Prospecting Robot makes identifying clients who need SEO and web marketing skills fast and easy.
SEO Client Prospecting Robot does this by reading the words and phrases directly from the sites you want to rank, and then ranks the keywords and phrases by any city, state, zip, niche, industry, or any other criteria you want to use…for sorting the wheat from the chaff, so-to-speak. Instantly see how any local company is performing on the local, county, state, national, or even international SEO levels.

* Here is a brief run down of what SEO Client Prospecting Robot does…

| | | |
| --- | --- | --- |
| Automatically ranks and qualifies high-probability clients for you | Automatically checks hundreds or even thousands of sites for SEO client potential, so you can avoid wasting time chasing companies that do not need or want help | Automatically narrows searches of selected sites to relevant cities, towns, states, industries or niches so you can see at a glance how sites rank within local or other demographic markets |
| Totally eliminates the need to enter keywords by hand to find potential clients — because this software reads site keywords directly from the web | Searches and uncovers site rankings in Google, Yahoo, MSN, Astalavista, and Ask search engines | Grabs contact info for potential leads, where available using our integrated whois lookup |
| Can be configured to appear as any of the preferred listed browsers you want the search engines to think you are using — this helps avoiding getting locked out of the search engines from excessive searching | Shows real-time on-screen results logging so you can watch search results and know exactly what's happening during the searches | Uncovers Google Page Ranking stats |
| Shows Alexa ranking | Reports average back linking results for sites | Specifies total pages indexed by Google, Yahoo, MSN |
| Works with way more site configurations than ever, not just static html pages; is hundreds of times more stable and more versatile | Has had an awesome new makeover. I think it is just plain pretty now | …and even more features coming soon! |
These features help SEO Client Prospecting Robot uncover and separate potential clients fast.

Your users of the software will spend their time talking with companies that actually need SEO help. Not tied up chasing companies that are already at the top of their game.

Current deployment is in alpha development and many features displayed here and in videos are related to our source code that was stolen. We recommend our developer license for anyone who wants access to the final version of our software for no extra cost when it is released. The alpha versions are previous commercial versions. They are not now suitable for commercial deployment due to changes in search engines. Read our SEO news release to learn more about why we are publishing the source code of our flagship product for free.

These brief videos show how to use SEO Client Prospecting Robot.

The videos are largely "uncut".

So please do not get hung up on this not being a Hollywood production

* Note: These videos are from our 2009 source code that was "stolen"…

Downloads:
The Official SEO Client Prospecting Robot Software

Developer Community Login

General Software License | DMCA | Earnings Disclaimer | Privacy Policy | Refund Policy | Terms and Conditions | Support